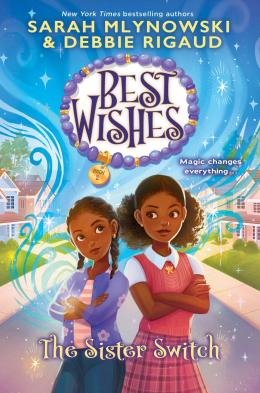 Read an excerpt
Awards
Commended, Best Books for Kids and Teens, Canadian Children's Book Centre, 2023
The Sister Switch (Best Wishes #2)
Scholastic Inc. | ISBN 9781338628289 Hardcover
192 Pages | 5.777" x 8.559" | Ages 8 to 12

Scholastic Inc. | ISBN 9781338628296 Ebook
192 Pages | Ages 8 to 12

This exciting new series following a magical bracelet that's sent to different girls across the country is like Sisterhood of the Traveling Pants for MG! In this second installment, co-written by bestselling authors Sarah Mlynowski and Debbie Rigaud, the bracelet comes to a girl in Ohio, and kicks off a Freaky Friday-style adventure.

Ten-year-old Addie Asante of Columbus, Ohio, is sick of being the middle sister. Her big sister, Sophie, can do whatever she wants, and her little sister, Camille, is totally spoiled. When Addie receives a mysterious box in the mail containing a magical bracelet — and a note from a girl in New York named Becca — she's intrigued. Addie makes a wish on the bracelet to no longer be in the middle and suddenly — POOF — she's literally transformed into her big sister!

At first, getting to be Sophie is amazing: Addie is allowed to hang out at the coffee shop after school, have her own room, AND participate in the school talent show . . . this is the life! But as her new long-distance friend Becca warns Addie, this wish-granting bracelet isn't all that it seems. Having a wish come true can get really messy really fast. Plus, in a twist of magical chaos, Addie's big sister has become the baby sister, and Addie's baby sister is living as ADDIE! With friendships — and school tests — on the line, and a sneaky stranger determined to get her hands on the magic bracelet . . . can Addie and her sisters find a way to switch things BACK before it's too late?
Raves & reviews:
Praise for Best Wishes #2:
"Mayhem, confusion, twists and turns, and even laugh-out-loud hilarity ensue...Delightful, with just the right touch of magic." -- Kirkus Reviews
"Provides welcome humor as well as insights…engaging and fun." -- Booklist
Praise for Best Wishes #1:
"Whimsical...an empathetic heroine and winningly absurd situations offer over-the-top hilarity." -- Publishers Weekly
"Readers will love Becca... A coming-of-age tale told with humor, compassion, and more than a touch of magic." -- Kirkus Reviews
Praise for the Whatever After series:
"Kids will race through these laugh-out-loud, action-packed, magical adventures." -- Max Brallier, New York Times bestselling author of The Last Kids on Earth series
"A dazzling gem of a series!" -- Karina Yan Glaser, New York Times bestselling author of The Vanderbeekers series
"The feminist in me adored it, and the mother in me loved how my daughter would long to cuddle in close as we read together." -- Danielle Herzog, blogging for The Washington Post
"Hilarious... with unexpected plot twists and plenty of girl power." -- Booklist
"An uproariously funny read. The swift pace of the tale and non-stop action... will enchant readers from the first page." -- Kirkus Reviews
"Giddy, fizzy, hilarious fun!" -- Lauren Myracle, author of Luv Ya Bunches
"Tons of fractured fairy tale fun!" -- Meg Cabot, author of Allie Finkle's Rules for Girls and The Princess Diaries series