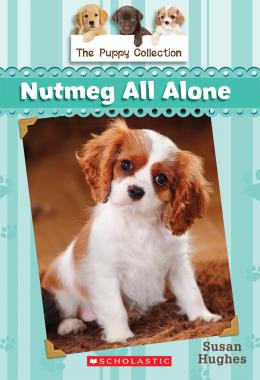 Read an excerpt
The Puppy Collection #8: Nutmeg All Alone
Scholastic Canada Ltd | ISBN 9781443146524 Paperback
96 Pages | 5.25" x 7.62" | Ages 5 to 8
Can Kat, Maya and Grace cheer up a sad, lonely pup?
Kat, Maya, and Grace are thrilled to be helping Aunt Jenn care for another puppy boarder at Tails Up. This time it is a 3-month-old cavalier King Charles spaniel named Nutmeg. The girls show up on several afternoons to play with the puppy, but she seems so sad most of the time. When Nutmeg stops eating altogether, the girls become quite worried. Aunt Jenn tries to call Nutmeg's owner but she is out of town and can't be reached.
Eventually, the girls realize that the puppy only seems to perk up when she sees Marmalade, the elderly cat who belongs to Tony, the receptionist at Tails Up. They begin to suspect that Nutmeg has a cat pal back home whom she is missing.
But what to do with the lonely pup who won't eat? Can crotchety Marmalade be persuaded to be a stand-in for Nutmeg's cat buddy? Or is there another solution?