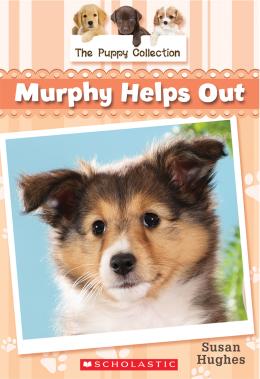 Read an excerpt
The Puppy Collection #3: Murphy Helps Out
Scholastic Canada Ltd | ISBN 9781443124119 Paperback
96 Pages | 5.24" x 7.57" | Ages 6 to 9

Meet all kinds of puppies in this sweet illustrated series, perfect for newly independent readers!

Maya, Kat, and her new friend Grace are all set to help Aunt Jenn with a new puppy. Murphy is a shy little sheltie pup with lots of energy, so the girls agree to walk him and help him get used to being around people.

While on their walk in the park, the girls find an older cocker spaniel named Tawny that seems to be lost. They manage to reunite Tawny with her owner, but when they later find Tawny wandering the streets once more, the girls wonder if her owner deserves the responsibility of caring for the lovely little dog.

Maya, Kat, and Grace can't agree on what's best for Tawny. Can Murphy help them sort it all out?
Raves & reviews:
Praise for The Puppy Collection #3: Murphy Helps Out:
"Written in a simple, accessible style and illustrated with plenty of cute puppy pictures, Murphy Helps Out is certain to appeal to animal-crazy young readers." CM: Canadian Review of Materials