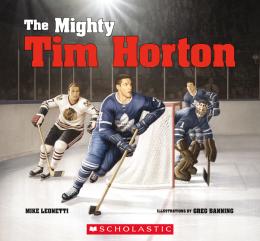 Read an excerpt
Available in French
Awards
Commended, Best Books for Kids and Teens, Canadian Children's Book Centre, 2011
Commended, OLA Best Bets, 2011
The Mighty Tim Horton
Scholastic Canada Ltd | ISBN 9781443100427 Hardcover
32 Pages | 10.5" x 9.75" | Ages 6 to 10
A young boy improves his hockey game with a little help from his idol, Tim Horton.
Trevor is a defenseman who loves to use his size in his game — sometimes a little too much. He's taking needless penalties, costing his team the wins they need to advance. He hates letting them down, but he doesn't know how to change his game.
As the Leafs head for the Cup in the 1961-62 season, he follows the plays of his hockey hero — Tim Horton — for inspiration. Horton is a big defenseman too, but he uses his size wisely.
One day, through a lucky coincidence, Trevor comes face to face with Tim Horton, and finds the nerve to ask him for some tips. Now, armed with some sound advice, he returns to his hockey team determined to rein in his temper and play a better game. And what a game it is! Trevor helps his team on to victory just as the Leafs hoist their newly won Stanley Cup — with a winning goal assisted by none other than Tim Horton!