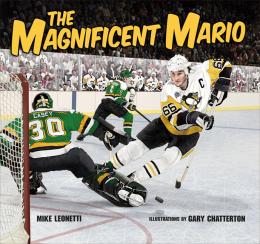 Read an excerpt
Available in French
Awards
Commended, Resource Links, Best of the Year, 2012
The Magnificent Mario
Scholastic Canada Ltd | ISBN 9781443107051 Hardcover
32 Pages | 10.64" x 9.77" | Ages 6 to 10
A young hockey player learns the value of playing one's best — no matter what the circumstances — from real-life hockey hero Mario Lemieux!
Tyler is already a big Mario Lemieux fan, but he still loves looking at his dad's memento — Mario's rookie card — and hearing about how Mario started out with the worst team in the NHL. Tyler is also on the worst team in his league, and losing so often gets very frustrating.
He is inspired by his hero's work on the ice, especially as he watches Mario through the 1990-91 season, giving a magnificent performance during the playoffs, and, of course, scoring an unbelievable goal against the Minnesota North Stars in the finals.
As Mario and the Pittsburgh Penguins become the Stanley Cup winners, Tyler learns that things can change, and a team can become stronger if you give your best — the way Mario did for his team.