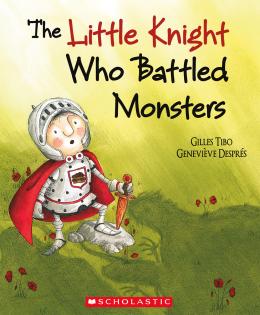 Read an excerpt
Available in French
Awards
Commended, Best Books for Kids and Teens, Canadian Children's Book Centre, 2016
The Little Knight Who Battled Monsters
Scholastic Canada Ltd | ISBN 9781443133845 Paperback
32 Pages | 8.23" x 9.95" | Ages 3 to 8
Sometimes the bravest thing a knight can do is to lay down his arms.
In a curious kingdom built on top of a forest lives a little knight. He has no battles, because there are no enemies around. He spends long days reading and planting flowers, long nights dreaming and snoring peacefully.
One day the little knight wakes with a start to a loud knocking at his fortress door. Three of his loyal subjects have been kidnapped! With fresh chocolate cake in his belly, he sets off into the dark forest to find the monsters holding them captive. Can the little knight keep his vow and return them home safely?