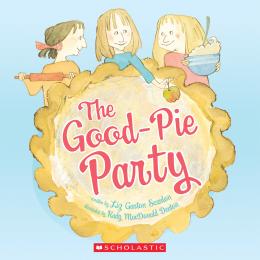 Read an excerpt
Awards
Commended, Best Books for Kids and Teens, Canadian Children's Book Centre, 2014
The Good-Pie Party
Scholastic Canada Ltd | ISBN 9781443107518 Paperback
32 Pages | 9.02" x 9.04" | Ages 4 to 8
Scholastic Inc | ISBN 9780545448703 Hardcover
32 Pages | 9.38" x 9.3" | Ages 4 to 8
A sweet and delicious story about moving, illustrated by award-winning artist Kady MacDonald Denton.
Posy, Megan and Mae have always been the best of friends — but now Posy has to move away. Only their favourite activity can comfort the girls: baking pie! And when they realize they can host a good-pie party instead of a good-bye party, the sad situation becomes a sweet gathering for their entire community.
The Good-Pie Party celebrates good friends, good memories and the joy of a just-right goodbye.
Raves & reviews:
Praise for The Good-Pie Party:
"It's delightfully illustrated . . . I love a picture book that makes you feel emotion, and this one is so humane and charming."— Michele Landsberg, CBC Radio
"A story that celebrates the bond of friendship while acknowledging the reality of transition." — Publishers Weekly