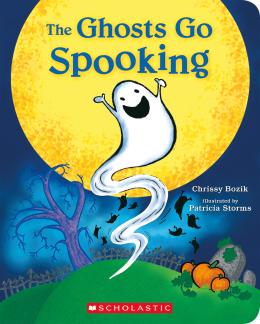 Read an excerpt
Available in French
Awards
Commended, Best Books for Kids and Teens, Canadian Children's Book Centre, 2016
Commended, Resource Links, Best of the Year, 2015
The Ghosts Go Spooking
Scholastic Canada Ltd | ISBN 9781443157063 Board book
22 Pages | 6.02" x 7.51" | Ages 0 to 3
Scholastic Canada Ltd | ISBN 9781443139045 Paperback
24 Pages | 8.02" x 10.01" | Ages 3 to 8
It's Halloween night and the ghosts are marching in!
Little ghosts go trick-or-treating by ones, twos, and up to ten in this spooky and fun-filled take on "The Ants Go Marching." Hurrah, hurrah!
The familiar counting song is a fun read-aloud and sing-along, and children will love identifying all the costumes in the ghost march. Observant readers will also find lots of opportunities to count along as they look for ghostly silhouettes and other spooky objects hidden in the illustrations!
A perfect Halloween treat, The Ghosts Go Spooking is sure to become a favourite for repeat readings.
Extras: