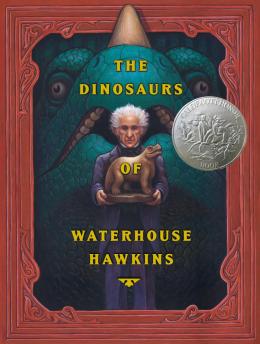 The Dinosaurs of Waterhouse Hawkins
Scholastic Inc | ISBN 9780439114943 Hardcover
48 Pages | 9.31" x 12.31" | Ages 4 to 8

Can you fathom a time when no one knew what a dinosaur was? That was true in the mid-nineteenth century, until a Victorian artist named Waterhouse Hawkins brought these ancient animals to life for all to see. Originally in his native England, and later in New York City, he devoted more than three decades to building the first life-size models of dinosaurs, and he dazzled the world with his awe-inspiring creations. With style, spirit, and impeccable attention to detail, Barbara Kerley unearths a story of consuming passion, triumph, loss, and courage -- and ultimately, of an extraordinary legacy that lives on today. Brian Selznick celebrates this complex and fascinating individual through luminous and soul-stirring paintings that -- apropos of his subject -- form a visual masterpiece. From the youngest dinosaur aficionados to those interested in art, science, or pioneering people, the unforgettable story of Waterhouse Hawkins and his dinosaurs has something to teach all of us about the importance of believing in oneself and following a dream.