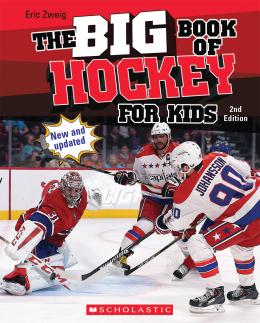 Read an excerpt
Awards
Commended, Best Books for Kids and Teens, Canadian Children's Book Centre, 2018
The Big Book of Hockey for Kids (Second Edition)
Scholastic Canada Ltd | ISBN 9781443148672 Hardcover
136 Pages | 8.36" x 10.28" | Ages 7 to 12
Find out everything there is to know about hockey in this bestselling volume, redesigned, revised and updated!
Who are the "Original Six"? How many cities have had their hockey team move . . . only to get a team later on? What are some of the most historic hockey games? How does the salary cap work, anyway?
This book looks to answer all those questions and more, equipping the hockey fan with everything they need to know about hockey. From the beginning of the game to the billion dollar industry that it is today, fans will learn the A to Z of hockey.
This updated edition includes updates statistics and records, new content about careers in hockey, the latest on equipment, expanded information on women's hockey PLUS twice as many photographs!
Raves & reviews:
Awards:
Shortlist, Silver Birch Non-Fiction Award
Starred Selection, Best Books for Kids and Teens
Praise for The Big Book of Hockey for Kids:
"Feed their love of the game with this fact-packed book that covers everything.Don't be surprised if your stat-loving fan interrupts you over and over with 'Did you know..." — Canadian Family
"Engaging and easy to read and gives a real sense of what it would be like to be involved in the sport at all levels from playing to coaching and broadcasting." -— Canadian Teacher