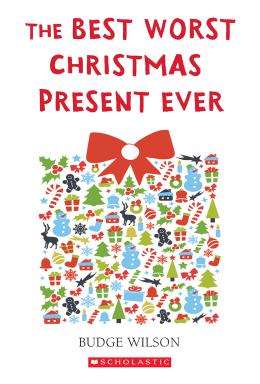 Read an excerpt
Awards
Commended, Best Books for Kids and Teens, Canadian Children's Book Centre, 2014
Commended, Resource Links, Best of the Year, 2013
The Best Worst Christmas Present Ever
Scholastic Canada Ltd | ISBN 9781443128254 Paperback
104 Pages | 5.26" x 7.6" | Ages 7 to 10
This favourite tale of Christmas gone awry is now available for a new generation of readers!
This year, Lorinda and her brother James want to buy their mother the best Christmas present ever. Lorinda has her eye on one very special item, but they'll need to come up with some brilliant money-making ideas if they want to get it in time for Christmas! Of course, nothing goes according to plan . . . but the siblings are determined to make this a holiday their mother will never forget.
Young readers will identify with this familiar holiday dilemma, and delight in Lorinda and James' creative solution (not to mention all the bumps along the way). The Best Worst Christmas Present Ever is an earnest, uplifting story that will get kids in the holiday spirit at Christmastime — and all year round!
Raves & reviews:
Praise for The Best Worst Christmas Present Ever:
"A Christmas story for all seasons." —Kids Toronto
"A lively, fast-paced book . . . [that] will elicit both sympathy and laughter." —Canadian Review of Materials