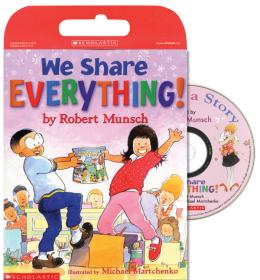 Available in French
Tell Me a Story: We Share Everything: Book and CD
Scholastic Canada Ltd | ISBN 9780439956123 Mixed media product
Pages | 10.1" x 10.61" | Ages 3 to 8

It's the first day of kindergarten and Amanda and Jeremiah have a problem. They both want to read the same books. They want to paint with the same paints. And they refuse to share. The teacher tells them, "Look. This is kindergarten. In kindergarten we share. We share everything." Everything? Amanda and Jeremiah decide to take their teacher at her word. But what can they share? They begin by switching their shoes, and end up wearing each other's outfits! Now Jeremiah is wearing Amanda's pink shoes, pants and shirt and Amanda is wearing Jeremiah's clothes. Together they show their teacher that sharing really can be fun!
Raves & reviews:
"Munsch and Martchenko are their typical energetic selves here." - The Toronto Star