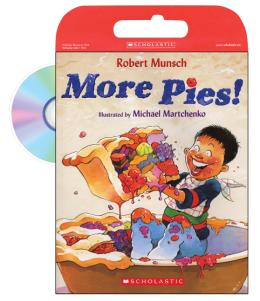 Tell Me a Story: More Pies!: Book and CD
Scholastic Canada Ltd | ISBN 9780439952590 Mixed media product
Pages | 10" x 14.3" | Ages 3 to 8

Samuel is so hungry he eats three breakfasts - but that's not enough! When he finds a pie-eating contest in the park, he's in! He wins the contest and takes home the prize pie. But then he discovers that his mother has just made lunch - and what do you think she has cooked?