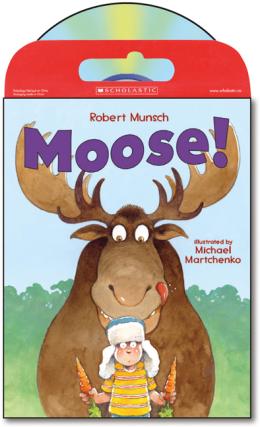 Available in French
Tell Me a Story: Moose
Scholastic Canada Ltd | ISBN 9781443107211 Mixed media product
32 Pages | 10.09" x 11.47" | Ages 3 to 8
When Luke finds a moose in the backyard, nobody believes him - and then nobody can make it go away!
Luke gets up early one Saturday morning and finds a moose in the backyard. He wakes up his dad, and then his mom, and each declares that "moose never come on the farm" - only to be surprised (and squashed) by the moose itself. Mom tries to shoo it away with a broom - but the moose eats it. Dad tries to scare it away with a hose - but the moose takes a nice bath. Luke feeds the moose carrots and decides to keep it in his tree house. But then Luke's sisters come along, with a surprising solution to the problem!
Listen and follow along as Robert Munsch recounts this most unusual tale!