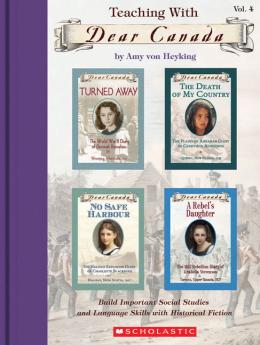 Teaching with Dear Canada Vol. 4
Scholastic Canada Ltd | ISBN 9780545994149 Paperback
48 Pages | 8.31" x 10.85" | Ages 0 & Up

This fourth teaching guide for the Dear Canada historical fiction series focuses on The Death of My Country, Turned Away, No Safe Harbour and A Rebel's Daughter. As students learn about Canada's past through the diaries, the guide extends the learning and builds important social studies and language arts skills.

It includes an overview of teaching social studies through historical fiction and provides a summary for each book, themes for classroom discussion, crosscurricular activities, ready-to-use reproducibles and more. Teaching with Dear Canada, Vol. 4 is the perfect tool for teachers.