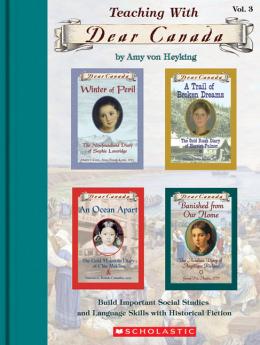 Teaching with Dear Canada Vol. 3
Scholastic Canada Ltd | ISBN 9780439947244 Paperback
48 Pages | 8.36" x 10.86" | Ages 8 to 12

A ready-to-go teaching guide to accompany the popular Dear Canada series and help kids read their way into history. This third teaching guide for the Dear Canada historical fiction series focuses on Banished from Our Home, An Ocean Apart, A Trail of Broken Dreams, and Winter of Peril.

It includes an overview of teaching social studies through historical fiction and provides a summary for each book, themes for classroom discussion, cross-curricular activities, ready-to-use reproducibles, and more! Teaching With Dear Canada: Vol. 3 is the perfect tool for developing children's understanding of historical concepts while building useful social studies and language arts skills.