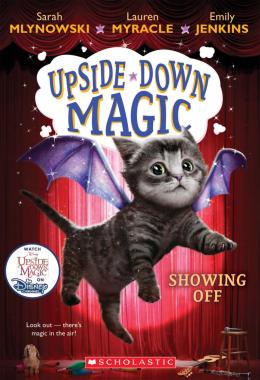 Showing Off (Upside-Down Magic #3)
Scholastic Inc. | ISBN 9780545800549 Paperback
208 Pages | 5.245" x 7.585" | Ages 8 to 12

From New York Times bestselling authors Sarah Mlynowski, Lauren Myracle, and Emily Jenkins comes the third entry in this offbeat series about a group of magical misfits.Some people in school are afraid of the kids in the Upside-Down Magic class. Others just call them flops. But Nory and her friends in Upside-down Magic won't let that stop them. Not with a school-wide talent show coming up! Except... Nory's afraid her fluxing magic will go wonky and upset her father. Pepper is worried that her abilities as a Fierce will make all the animals in the show run wild. Bax has some extreme new magic skills, but they can also be extremely embarrassing. And Elliott suspects there's a Sparkie spy who's looking to uncover UDM's talent-show secrets-and to use those secrets against them. In order to take the stage and make some magic, the Upside-Down Magic kids are going to have to band together... and find the right combination of talents to steal the show!
Raves & reviews:
Praise for Upside-Down Magic:"An enchanting celebration of every kid who has ever felt a little 'upside down' and the unique ways we all work our magic." -- Michael Buckley, bestselling author of The Sisters Grimm and NERDS "Mlynowski, Myracle, and Jenkins have combined their considerable writing powers and experience to create an uplifting series launch that will charm young fantasy readers." -- Booklist "[An] entertaining story about magical powers gone humorously awry." -- Publishers Weekly "Three top-notch writers combine their skills to tell the story of a misfit conjurer learning to accept her differences. . . . Nory is such a sympathetic and winning character." -- Children's Literature