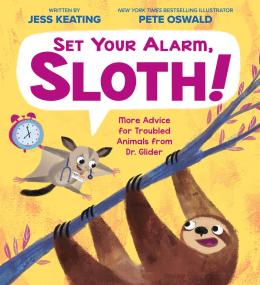 Read an excerpt
Awards
Commended, TD Summer Reading Club, Top Recommended Read, 2023
Commended, Best Books for Kids and Teens, Canadian Children's Book Centre, 2022
Set Your Alarm, Sloth!: More Advice for Troubled Animals from Dr. Glider
Scholastic Inc. | ISBN 9781338239898 Hardcover
40 Pages | 10.347" x 11.274" | Ages 4 to 8
Scholastic Inc. | ISBN 9781338782011 Ebook
40 Pages | Ages 4 to 8
Have fun learning about some odd but true animal facts with Dr. Sugar Glider and her patients!
Zoë Zebra is troubled. Why do flies crash into her? A visit from Dr. Glider can solve the mystery. Our gliding doctor also helps a sloth stay awake, a sneezing iguana, a leaderless clownfish, a lovesick egret, and many more creatures with some peculiar problems.
This hilarious and fun picture book by author and zoologist Jess Keating (Pink Is for Blobfish) and New York Times bestselling illustrator Pete Oswald (The Couch Potato) is packed with entertaining animal stories and unbelievable true facts on every page that are sure to fascinate curious young readers. Scientific vocabulary appears throughout each medical adventure, and there's a glossary and a list of species at the end.
And for more laughter and nonfiction fun, read about the weird but true problems among Dr. Glider's first group of patients in Eat Your Rocks, Croc!
Raves & reviews:
"Keating has a knack for finding intriguing information and the skill to impart it with humor. Oswald's engaging illustrations feature creatures with expressive, anthropomorphic faces... Fans of the first book will be thrilled to encounter more fact-filled fun." -- Kirkus Reviews
Praise for Eat Your Rocks, Croc!:
"Keating's language is full of puns, but her science is spot-on... Frankly fantastic but fact-filled fun." -- Kirkus Reviews
Praise for Pink Is for Blobfish by Jess Keating:
"A playful introduction to the kookier corners of the animal kingdom." -- Booklist
"Keating maintains a casual tone while delivering intriguing details about each animal." -- Publishers Weekly
Praise for The Bad Seed, illustrated by Pete Oswald:
"Working in digitized watercolors, Oswald makes this antihero's angst vivid and touching, and the world the seed moves in -- a metropolis populated by seeds that include peanuts, coconuts, and corn kernels -- adds a playful counterpoint of background detail and comedy." -- Publishers Weekly
Praise for The Good Egg, illustrated by Pete Oswald:
* "Oswald's digitally composed, bright artwork pops with rib-tickling close-ups and character-building moments." -- Kirkus Reviews, starred review