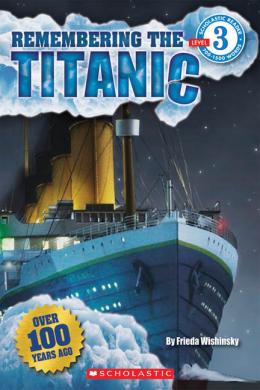 Read an excerpt
Awards
Commended, Best Books for Kids and Teens, Canadian Children's Book Centre, 2012
Scholastic Reader: Remembering the Titanic: Level 3
Scholastic Inc | ISBN 9780545358446 Paperback
32 Pages | 6.02" x 8.98" | Ages 6 to 8
Commemorate the 100th anniversary of the sinking of the Titanic in April 1912.
On April 10, 1912, the Titanic set sail. On April 15, 1912, the great ship sank. This simple reader tells the story of the Titanic for the 100th anniversary of its tragic voyage.
Find out what life was like aboard the ship and meet some of the passengers and the crew. Read about Robert Ballard's triumphant discovery of the wreck seventy-three years later and what's been discovered since. Full-color photographs throughout and clearly leveled text make history come alive for younger readers.