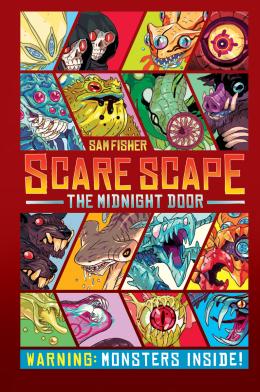 Read an excerpt
Awards
Commended, Best Books for Kids and Teens, Canadian Children's Book Centre, 2015
Scare Scape: The Midnight Door
Scholastic Inc | ISBN 9780545521635 Hardcover
352 Pages | 5.81" x 8.54" | Ages 8 to 12
Scholastic Inc | ISBN 9780545521659 Ebook
352 Pages | Ages 8 to 12
More monsters. More magic. More sibling rivalry!
Siblings Morton, James, and Melissa thought they were done with the monstrous refugees from the popular horror comic "Scare Scape." It's not the first time they've been wrong . . .
When the town of Dimvale is overrun with two-headed mutant rats, Morton Clay knows that dark magic is to blame. And when his classmates get their hands on impossible gadgets like X-ray specs and anti-gravity lasers, he realizes the trouble is just beginning.
Morton and his siblings, James and Melissa, are the only ones who can stop the chaos. But should they, if it means eliminating magic from the world? As Morton begins to fight magic with magic, he's not so sure . . .
Raves & reviews:
Praise for Scare Scape:
Nominee, Manitoba Young Readers' Choice Award, 2015

Nominee, Hackmatack Children's Choice Award (Atlantic Canada), 2014-2015
"An imaginative, not-too-dark urban fantasy . . . Fans of spooky fiction and comics will be in a dark and happy place." —Booklist
"This scary, but not too scary, horror novel has excellent characters; a well-developed plot; and clear, well-paced writing." —School Library Journal
Extras: