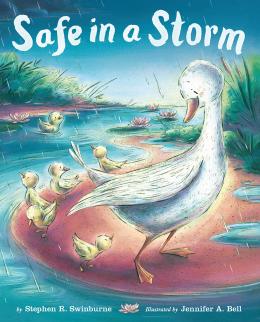 Read an excerpt
Awards
Commended, Best Books for Kids and Teens, Canadian Children's Book Centre, 2016
Safe in a Storm
Scholastic Inc | ISBN 9780545669887 Ebook
32 Pages | Ages 3 to 5
Scholastic Inc | ISBN 9780545867924 Hardcover
32 Pages | 8.46" x 10.3" | Ages 3 to 5
A reassuring story about the love between parent and child.
"When the clouds grow darker and the rain pelts and stings, I'm here, my little duck. Keep warm beside my wings."
In this comforting read-aloud story, all the animals find cozy places to keep them safe and warm, no matter how loud the storm rumbles or how dark the night gets. Next to their mothers, the baby animals are able to let go of their fears and fall asleep despite the storm.
Safe in a Storm is a fun, imaginative good-night story featuring loving animal characters. It'll comfort young children during scary storms and always.
Raves & reviews:
Praise for Safe, Warm, and Snug by Stephen Swinburne and illustrated by Jose Aruego and Ariane Dewey
"This jaunty rhyming book explains how animal parents keep their young from getting eaten. Cheerfully light verse delivers the facts . . ." —Publishers Weekly
Praise for When a Dad Says "I Love You" by Douglas Wood and illustrated by Jennifer Bell
"Charming color illustrations with cartoonish, evocative, and whimsical touches . . .Great for bedtime sharing." —Booklist