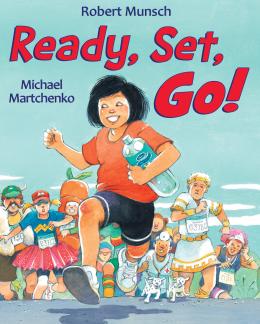 Read an excerpt
Ready, Set, Go!
Scholastic Canada Ltd | ISBN 9781443146579 Hardcover
32 Pages | 8.36" x 10.29" | Ages 3 to 8
Scholastic Canada Ltd | ISBN 9781443146586 Paperback
32 Pages | 8.04" x 9.99" | Ages 3 to 8
Miranda's dad is running his first big race, and Miranda is there to cheer him on. But wait.... Is it really the other way around?
Miranda's dad is going to his very first marathon. But they get there late and Dad sends Miranda to get him some water. Before she can bring it back, the starter's horn goes off and the runners are off!
Miranda takes the water bottle and dashes down the course looking for her dad. She runs up hills and down hills, and catches up with runners wearing tutus and vegetable costumes and normal clothes. She asks each one: "Have you seen my dad?" Some of the runners are nice, some ignore her, and some call her a pipsqueak, but none of them has seen her father.
Finally Miranda gets to the finish line, where she finds her father ... and gets a big surprise!