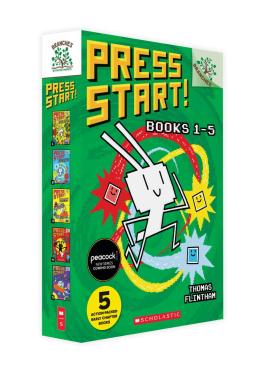 Press Start!, Books 1-5: A Branches Box Set
Scholastic Inc. | ISBN 9781338830705 Mixed media product
400 Pages | Ages 5 to 7
This adventure-filled, five-book box set of USA Today bestselling series Press Start! is the perfect gift for the newly independent reader in your life!
Pick a book. Grow a Reader!
This series is part of Scholastic's early chapter book line called Branches, which is aimed at newly independent readers. With easy-to-read text, high-interest content, fast-paced plots, and illustrations on every page, these books will boost reading confidence and stamina. Branches books help readers grow!
This action-packed collectible box set includes paperback editions of books 1-5 in Thomas Flintham's bestselling Press Start! early chapter book series: Game Over, Super Rabbit Boy!, Super Rabbit Boy Powers Up!, Super Rabbit Racers!, Super Rabbit Boy vs. Super Rabbit Boss!, and Super Rabbit Boy Blasts Off! This series stars Super Rabbit Boy, a video-game character in a video-game world. In each adventure, Super Rabbit Boy tries to stop meanie King Viking from causing trouble! All of the books in this series are fully illustrated -- with full-color art on every page that brings energy and fun to this page-turning series!
Raves & reviews:
A USA Today bestselling series!
Praise for Game Over, Super Rabbit Boy! (Press Start! #1):
"The fast, repetitive plot uses basic, simple sentences and child-friendly objects of interest, such as lakes of lava, for children working on reading independence, while the nerdy in-jokes benefit adults reading with a child. A strong series start." -- Kirkus Reviews
"A strong addition to most chapter book collections, especially where there are gamers." -- School Library Journal
"The gaming gimmick and graphic layout is sure to appeal to many readers, especially reluctant ones." -- Booklist