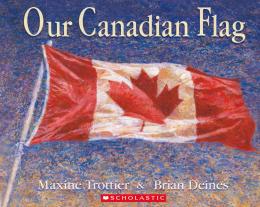 Read an excerpt
Awards
Short-listed, Amelia Frances Howard-Gibbon Illustrator's Award, 2005
Short-listed, OLA Blue Spruce Award, 2005
Commended, Canadian Children's Book Centre, Our Choice, 2005
Our Canadian Flag
Scholastic Canada Ltd | ISBN 9780439956871 Paperback
32 Pages | 9.99" x 7.97" | Ages 5 to 9

A patriotic look at the Canadian flag. The maple leaf is a powerful symbol. Take a heartfelt look at what it means to everyday Canadians. Emotional text, beautiful illustrations, and sidebars that add fascinating details and facts about the history of our flag make this book perfect for the classroom or for anyone who simply loves this great country. Supports social studies topics of current provincial curricula as well as current interest in Canadian history and patriotism.
Raves & reviews:
Praise for Our Canadian Flag:
"In simple poetic language, enhanced by Deines' atmospheric oil paintings, Trottier makes understandable for young readers that ineffable feeling: national pride." -City Parent Magazine