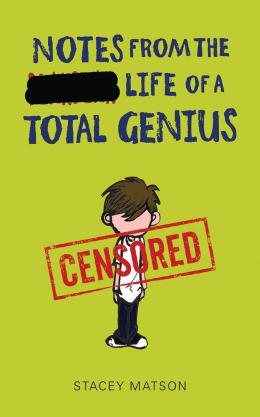 Read an excerpt
Watch a video
Awards
Commended, Best Books for Kids and Teens, Canadian Children's Book Centre, Starred Selection, 2017
Notes from the Life of a Total Genius
Scholastic Canada Ltd | ISBN 9781443148238 Hardcover
248 Pages | 5.48" x 8.67" | Ages 9 to 12
Scholastic Canada Ltd | ISBN 9781443148252 Ebook
248 Pages | Ages 9 to 12
A new year, a new controversy, and another way to make Kennedy mad . . .
It's Arthur Bean's lat year of junior high, and he finally has his own column in the school newspaper: Just One Guy's Opinion. But his co-editor Kennedy is mad at him (not that he still wants to be her boyfriend) and his friend Robbie has moved to another city. Now he's on a collision course with the new principal over censorship. Can Arthur make it to grad without starting a revolution?
The hilarious sequel to A Year in the Life of a (Total and Complete) Genius and Scenes from the Epic Life of a Total Genius.
Raves & reviews:
Praise for A Year in the Life of a Total and Complete Genius
• Nominee, Manitoba Young Reader's Choice Award, 2016
• Nominee, Rocky Mountain Book Award, 2016
• Nominee, Chocolate Lily Award, 2016
"At once funny, outrageous, thoughtful, and informative, this is a story with something for everyone, and Arthur's is a voice readers won't soon forget." —
CM: Canadian Review of Materials
Extras: