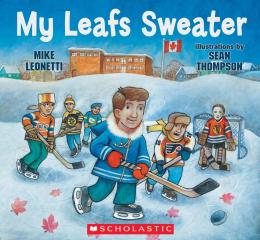 Read an excerpt
Awards
Commended, Best Books for Kids and Teens, Canadian Children's Book Centre, 2013
My Leafs Sweater
Scholastic Canada Ltd | ISBN 9781443107433 Paperback
32 Pages | 9.49" x 10.28" | Ages 6 to 10
This nostalgic tale of a young boy's love for the Toronto Maple Leafs is now available from Scholastic!
Journey back to 1976 and meet Michael, who wants to be just like his hero Darryl Sittler, captain of the Toronto Maple Leafs. From his living room perch in front of the television, Michael watches Hockey Night in Canada and dreams of playing for the Leafs.
He sets out with his father on a search for a sweater that he can proudly wear on the ice while playing with his friends. He tries every store only to find out they are sold out. He tries one more, at Maple Leaf Gardens, and although they, too, have sold out of the Sittler sweater, Michael's father is able to get tickets to what will be an historic game for the Leafs' captain! As Michael roots Sittler on, he learns that there is much more to the love of hockey than just having the sweater of your favourite player.
Raves & reviews:
Praise for My Leafs Sweater:
"The excitement the father and son express while attending a real hockey game will resonate with true fans." -Resource Links