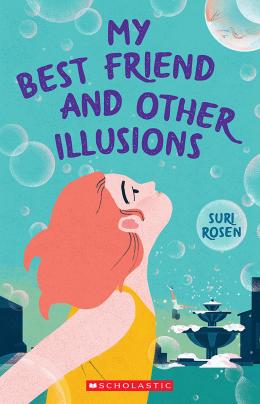 Read an excerpt
Awards
Commended, TD Summer Reading Club, Top Recommended Read, 2021
Commended, Best Books for Kids and Teens, Canadian Children's Book Centre, 2020
My Best Friend and Other Illusions
Scholastic Canada Ltd | ISBN 9781443146821 Paperback
240 Pages | 4.993" x 7.771" | Ages 9 to 12
Scholastic Canada Ltd | ISBN 9781443146838 Ebook
240 Pages | Ages 9 to 12
What if your imaginary friend from childhood suddenly reappeared . . . only this time, he's no figment of your imagination.
Charlie Green has said enough tough goodbyes for a lifetime — to her dad, her gramps, her best friend. Just when it feels like there's nothing more to lose, Charlie might have to say goodbye to her biggest dream — to join an acrobatic circus. That's when Rudy shows up, with exactly what Charlie needs.But the problem with imaginary friends is they know everything about you, even the secrets that may tear your family farther apart. Is it finally time to face the past and find a new way forward?
My Best Friend and Other Illusions is a captivating story about memory, forgiveness and second chances, with a family that will find its way straight into your heart.
Raves & reviews:
Praise for Playing With Matches:
"This charming story of growing up and owning up will ring true with readers." -- School Library Journal
"Playing with Matches is compulsively readable. It is absolute fun, and Rain is the best kind of narrator -- funny, engaging, well-meaning and usually a little out of control. I could not put the book down." --Canadian Review of Materials
"Fizzy, funny, and ultimately redemptive." -- Kirkus Reviews
Extras: