Metallic Glam Nail Studio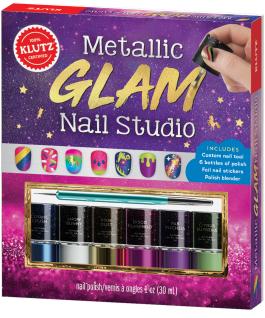 Scholastic Inc. / Scholastic Canada Ltd.
ISBN: 9781338321494
Ages 10 & Up
Metallic Glam Nail Studio
All you need for do it yourself,uniquely fabulous nails!
The glam life is right at your fingertips! Using the custom, two-sided tool and foil decals, you'll learn how to "nail" more than 30 different nail art designs like unicorn magic, zodiac signs, mermazing scales, and more! The included high-end nail polish in six stylish colors will help you make sure your mani is picture perfect.
Comes With: 48-page book, nail polish in 6 colors, two-sided nail detailing tool, nail decals, sponge.
Click here for more