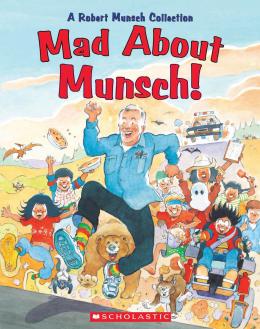 Read an excerpt
Mad About Munsch!: A Robert Munsch Collection
Scholastic Canada Ltd | ISBN 9781443102391 Hardcover
184 Pages | 9.88" x 12.29" | Ages 3 to 8
Our third fabulous Munsch anthology, with extra bonus material!
Every kid knows that there is nothing better than sharing a hilarious story by Robert Munsch at bedtime, bathtime, and beyond - so why stop at one?
In this Munsch-tastic oversized collection, readers will find the following five stories:
More Pies!
Zoom!
Smelly Socks
Boo!
The Sandcastle Contest
Plus a complete Munsch story, Braids, with art by some very special illustrators - kids! Braids was originally published by eight-year-old Taya Kendall in support of the charity Children of Bukati, which helps orphaned Kenyan children attend school. Scholastic Canada is making a donation to Children of Bukati in the name of the kids from Sir Isaac Brock Public School, who drew the pictures.
Mad About Munsch! is a wonderful collection at a wonderful price!