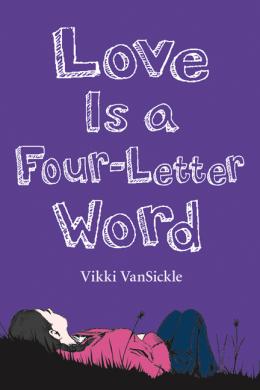 Awards
Commended, Best Books for Kids and Teens, Canadian Children's Book Centre, 2012
Love Is a Four-Letter Word
Scholastic Canada Ltd | ISBN 9781443107877 Paperback
208 Pages | 5.02" x 7.75" | Ages 11 to 13
Where love and friendship are concerned, if you don't move forward, you'll get left behind.
Love: little word, big consequences. Clarissa has never given much thought to the word herself; she has other things to worry about. Her mother is still recovering from breast cancer, and until Clarissa hears that magical word "remission," she doesn't think she'll ever be able to relax.
As a distraction, she and best friend Benji try out for a community production of The Wizard of Oz. But sadly only he makes the cut, leaving her disappointed and best-friendless, and forced to spend her time with other people, like boy-crazy Mattie.
When Mattie becomes distracted by a new crush, and Clarissa's mother starts spending far too much time with her personal trainer, Clarissa wonders when she stopped being enough for all the people in her life. Enter Michael, who seems to be interested in more than just friendship. But is that what Clarissa wants?
Raves & reviews:
Praise for Love Is a Four-Letter Word:
CCBC Best Books for Kids and Teens, 2012
"Humorous and poignant all at once." -Resource Links
"This book expertly portrays the emotional frenzy of early adolescence. This is a sweet and sensitive story that is perfect for any middle school or junior high aged girl." -Canadian Children's Book News
"Like Like Words That Start With B, Love Is a Four-Letter Word continues to provide an honest outlook of a pre-teen figuring out her relationships and the world around her." -CM Magazine
Praise for Words That Start With B:
Shortlisted, CBA Libris Awards - Young Reader Book of the Year, 2011
CCBC Best Books for Kids and Teens, 2011
Recommended, IODE Violet Downey Book Award, 2011
"A well-crafted and enjoyable first effort from a writer who is obviously tuned into the minds and emotions of young teens." -Quill & Quire
"Clarissa and Benji offer a fresh, honest look at life as an outsider, when you don't quite belong and don't quite know who you are. They're funny and relatable and exactly the kind of characters kids should be reading in today's It Gets Better age." -CBC Books
"A fresh and honest look at a girl's school year in that wonderful, horrible, confusing time known as Grade Seven." -Canadian Bookseller Magazine
"Words That Start With B is the story of how a feisty girl battles a year of surprises, if not with grace, then with a lot of humour." -Open Book Toronto