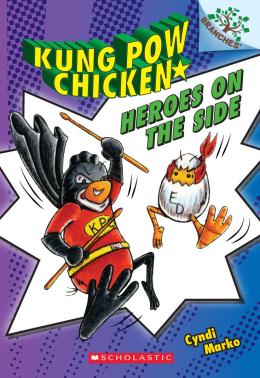 Read an excerpt
Kung Pow Chicken #4: Heroes on the Side (A Branches Book)
Scholastic Inc | ISBN 9780545610742 Paperback
80 Pages | 5.28" x 7.64" | Ages 5 to 7
Scholastic Inc | ISBN 9780545613958 Ebook
80 Pages | Ages 5 to 7
Kung Pow Chicken is on the lookout for bad eggs!
This series is part of Scholastic's early chapter book line called Branches, which is aimed at newly independent readers. With easy-to-read text, high-interest content, fast-paced plots, and illustrations on every page, these books will boost reading confidence and stamina. Branches books help readers grow!
Gordon Blue's birdy senses are tingling like never before in this fourth book in the series. The Blue family travels to New Yolk City on vacation. While in the Big Egg, Egg Drop goes to the Annual Sidekicks Meeting. With all of the world's sidekicks in one basket, bad guy Chickenfinger and his Dirty Dozen Bad Eggs chicknap the sidekicks. Kung Pow Chicken will have to save the doomed sidekicks fast - the egg timer is ticking!
Raves & reviews:
Praise for Kung Pow Chicken series:
"Fresh, funny, and packed with full-color illustrations, this new transitional series will be an instant hit with readers looking for silly fun and a touch of mystery." -Booklist