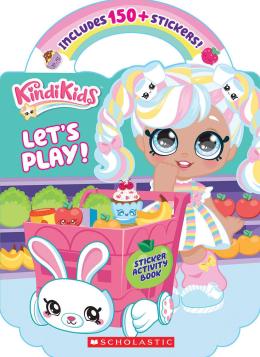 Kindi Kids: Let's Play!
Scholastic Inc. | ISBN 9781338670547 Novelty book
80 Pages | Ages 3 to 5
This 64-page activity book contains TONS of fun things to do with the Kindi Kids, like mazes, puzzles, word searches, and more! Also includes 8 sheets of stickers and a super cute handle to be taken on the go!Join Marsha Mello, Peppa-Mint, Donatina, Jessicake, Summer Peaches, Rainbow Kate, Berry Chill, Miss Arr Bow, and all your favorite friends from Rainbow Kindi in this amazing activity book! Help the Kindi Kids find the Shoppies they're looking for in word searches, puzzles, mazes, connect-the-dots, and a whole lot more. Plus, you'll get to doodle all your favorite cute things! This amazing activity book comes with a carry-along handle, die-cut shape, and TONS of stickers. It'll make you want to say, "Yay, let's play!"