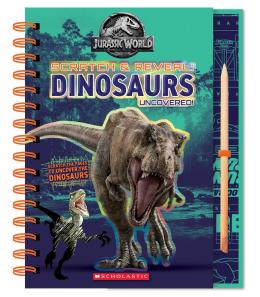 Jurassic World: Dinosaurs Uncovered!
Scholastic Inc. | ISBN 9781338726688 Paperback
64 Pages | 6.234" x 7.967" | Ages 7 to 10
Uncover the amazing dinosaurs of Jurassic World and other secrets of the world's most exciting theme park in this interactive scratch art book!Uncover behind-the-scenes secrets! As an intern at Jurassic World, you now have special access to the Hammond Creation Lab, Asset Containment Unit, Operations, and so much more. Have you ever wanted to create your own dinosaur? With the help of Dr. Wu, now you can! But that's not all. Owen can't find Blue, and he needs your help. Can you reveal her hidden location? It's time for asset containment! Loaded with dinosaur facts and fun-filled activities, this Scratch and Reveal book is perfect for any Jurassic World fan looking to get in on the action. Includes a wooden stylus and 20 bonus notebook pages. Jurassic World Franchise © 2021 Universal City Studios LLC and Amblin Entertainment, Inc. All Rights Reserved.