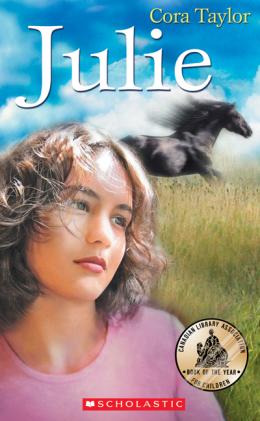 Julie
Scholastic Canada Ltd | ISBN 9780439948869 Paperback
144 Pages | 4.21" x 6.74" | Ages 9 to 12

Julie has the "second sight" and feels like an outsider...until her gift helps her save her own father's life. Julie is known as the odd child in the family, the sensitive one who sees or hears or smells what others do not. Usually this makes her feel like an outsider - to all but her Granny, who also has the Gift. But when her senses pick up that her father is in danger, Julie trusts her intuition enough to break the rules, take her father's horse and race to his rescue. Awards: Winner, CLA Book of the Year, 1986, Canada Council Children's Literature Prize, 1985 and Alberta Writers Guild R. Ross Annett Award for Excellence in Writting for Children, 1985.
Raves & reviews:
Praise for Julie: "It's tempting to predict that Julie is destined to become a Canadian classic. The story is literate, sometimes, the kind of book which stretches the readers awareness." - Canadian Children's Book News