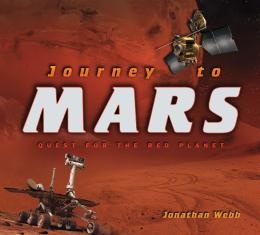 Read an excerpt
Awards
Short-listed, OLA Red Maple Award, Non-Fiction, 2011
Commended, Best Books for Kids and Teens, Canadian Children's Book Centre, 2011
Journey to Mars: Quest for the Red Planet
Scholastic Canada Ltd | ISBN 9781443100090 Paperback
48 Pages | 9" x 10" | Ages 8 to 13

Undoubtedly, getting to Mars is not going to be easy. The voyagers will face extreme physical danger--from asteroids and massive Martian dust storms to erupting giant volcanoes. Could humans survive the Red Planet? Drawing on the latest scientific research, and delving into humankind's fascination with Mars, Jonathan Webb creates a lively picture of what a Mars expedition would be like--from life aboard a Mars habitation module, how the astronauts would explore the planet's surface, to their triumphant return to Earth.