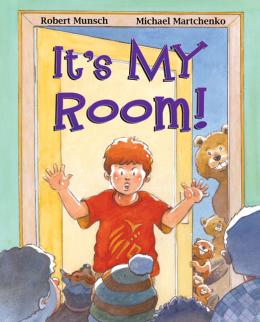 Read an excerpt
Available in French
Awards
Commended, Resource Links, Best of the Year, 2012
It's MY Room!
Scholastic Canada Ltd | ISBN 9781443113649 Hardcover
32 Pages | 8.26" x 10.32" | Ages 3 to 8
Scholastic Canada Ltd | ISBN 9781443113656 Paperback
32 Pages | 8.05" x 9.9" | Ages 3 to 8
Will Matthew ever get some peace in his own room?
Not a chance if his relatives have anything to say about it!
Matthew's family has a brand-new trailer, which includes a brand-new room for Matthew — a room of his own! Or so his mother says...
Sure enough, before he knows it, the relatives start knocking and his room soon becomes a hotel for cousins and aunts and uncles and dogs. Fed up, and sleeping underneath the trailer (which is the only place to get some privacy!) Matthew hatches a plan to get these guests OUT of his room, once and for all!
Robert Munsch created this story after having a chat with a young boy in Fort McMurray, Alberta. The result? A funny romp of a story that will satisfy any Robert Munsch fan, especially those that have had to share their room when company comes!
Raves & reviews:
Praise for It's MY Room!
"Laurel and Hardy, Holmes and Watson, peanut butter and jam — some things just go better together. Robert Munsch and Michael Martchenko figured that out a number of years ago, and have been teaming up to produce silly, insanely popular books ever since." —Quill & Quire
"In trademark Robert Munsch style, the writing features lots of repetition, snappy dialogue and opportunities for audience participation, making it a perfect read-aloud choice." —Resource Links
"Robert Munsch continues to put hilarious spins on everyday situations...[and] Michael Martchenko's illustrations add lots of extra details for readers to look at." —CM Magazine