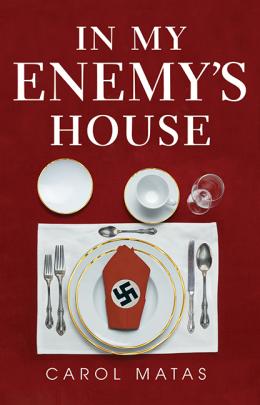 Read an excerpt
Awards
Short-listed, Geoffrey Bilson Award for Historical Fiction for Young People, 2001
Commended, Canadian Children's Book Centre, Our Choice, 2000
In My Enemy's House
Scholastic Canada Ltd | ISBN 9781443100199 Paperback
168 Pages | 5.01" x 7.77" | Ages 10 to 14
Scholastic Canada Ltd | ISBN 9781443124577 Ebook
168 Pages | Ages 10 to 14
I survived. Protected by the Nazis that killed my family. Could I ever forgive myself?
Award-winning novelist Carol Matas brings readers into the heart of Nazi Germany with the harrowing story of Marisa, a Polish Jew whose blond hair and blue eyes make it easy for her to pass as a Christian.
With the Nazis ready to herd the remaining Jews of her town into a ghetto, and with her family either scattered or dead, Marisa takes the papers of a Polish girl and goes to Germany in a desperate attempt to survive as a Polish worker.
Marisa finds work as a servant for the Reymanns, a German family that treats her with respect. But she must never forget that Herr Reymann is a high-ranking Nazi. Marisa is hiding in plain sight in her enemy's house.
This unflinching account of Marisa's dilemma as a Jew living a lie in order to survive will give readers a new perspective on the nature of good and evil, even as it touches their hearts.
Raves & reviews:
Praise for In My Enemy's House:
Honour Book, Geoffrey Bilson Award for Historical Fiction for Young People
CCBC Our Choice
Notable, Sydney Taylor Award, Books for Older Readers
Nominee, McNally Robinson Book of the Year for Young People Award
"This story holds you not only with the authentic account of the Jewish girl hiding in disguise right in the jaws of the enemy, but also with the intimate view of the Nazi home." -Booklist
"Gripping... although this is fiction, it has the immediacy and impact of a true story. Marisa's ordeal is compelling, moving - and deeply disturbing." -School Library Journal
"Chilling and compelling, this darkly existential novel travels down yet another path on the map of multi-faceted Holocaust literature, grappling with the paradox of separating individual from ideology." -VOYA
"Matas gives the reader enthralling action, and interesting relationships, while firmly touching on issues of moral behavior." -Children's Literature