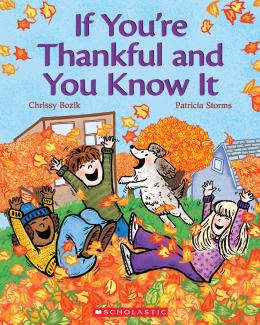 Read an excerpt
Available in French
Awards
Commended, Resource Links, Best of the Year, 2017
If You're Thankful and You Know It
Scholastic Canada Ltd | ISBN 9781443157636 Paperback
24 Pages | 8.04" x 9.99" | Ages 3 to 8
If you're thankful and you know it, pass it on!
This celebratory poem follows the rhythm of "If You're Happy and You Know It" and provides a perfect Thanksgiving offering!
Put on a cozy sweater, jump in a pile of leaves, eat turkey and play charades — it's time for a wonderful Thanksgiving Day with friends and family!