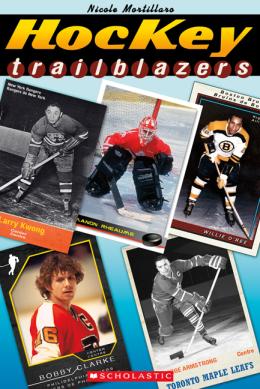 Read an excerpt
Awards
Short-listed, Red Cedar Award (BC Young Readers' Choice), 2012
Commended, Best Books for Kids and Teens, Canadian Children's Book Centre, 2012
Hockey Trailblazers
Scholastic Canada Ltd | ISBN 9781443104692 Paperback
64 Pages | 5.88" x 9.02" | Ages 8 to 12
The stories of five real hockey heroes who overcame challenges to play the game they love at the highest possible level!
This inspiring book profiles hockey players whose talent and determination eventually broke down barriers in hockey and opened doors and the generations that followed. Readers will learn about:
Will O'Ree, who challenged racial barriers as the first black player in the NHL.
George Armstrong, the first aboriginal player to make it big in the NHL, played 11 seasons as the Captain of the Maple Leafs, and proved his talent many times over.
Bobby Clarke was the first player with diabetes to play in the NHL. Knowing his place in hockey history now, it is laughable to htink he was dismissed as "too fragile" to play the game.
Manon Rhaume, the first woman to play pro hockey.
Larry Kwong, the first Chinese-Canadian in the league.
This fascinating book includes photos of all the players and sidebars about others they inspired, including Jarome Iginla, Hayley Wickenheiser and Jordan Tootoo. It encourages young fans to consider hockey, and the meaning of determination, from a whole new perspective.