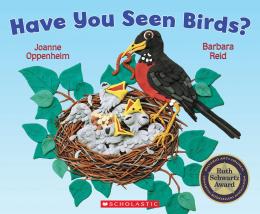 Read an excerpt
Available in French
Awards
Commended, Resource Links, Best of the Year, 2017
Have You Seen Birds?
Scholastic Canada Ltd | ISBN 9781443157421 Paperback
32 Pages | 10.04" x 8" | Ages 3 to 8
Like many of nature's wonders, birds are often taken for granted. But these birds won't go unnoticed! Spring, summer, autumn and winter birds, woodland, meadow, sea and marsh birds — all are brought to life in lively, lyrical prose and rich plasticine relief illustration. Colour and movement about in every word and every detail, making each bird memorable.