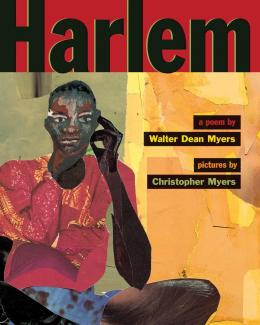 Harlem
Scholastic Inc. | ISBN 9780590543408 Hardcover
32 Pages | 9.547" x 12.278" | Ages 1 & Up

"They took the road in Waycross Georgia / Skipped over the tracks in East St. Louis / Took the bus from Holly Springs / Hitched a ride from Gee's Bend / Took the long way through Memphis / The third deck down from Trinidad / A wrench of the heart from Goree Island / A wrench of the heart from Goree Island / To a place called Harlem." So begins this exquisite poem about the poet's childhood home. With a few deft strokes, Myers and Myers paint a picture of a cradle of American culture. The text calls on all Walter's powers as a narrative writer, a poet, and historian, as it moves from the ancient history of the people of Harlem, through their traditions of family, home, and religion, to their turn of the century Renaisaance and their contemporary despairs, joys, and hopes. A truly remarkable book.
Raves & reviews:
"A hot new artist and his distinguished father fashion a picture book with a stirring sound at its center" - Kirkus Reviews"The two Myerses - author and artist, father and son - celebrate Harlem in different complementary ways; the author, in his poetic text, offers the city as a symbol of African American aspiration and predominantly music-based culture; the artist sees a concrete city composed of "colors loud enough to be heard.. . . Harlem as a visual experience that YAs will return to again and again, to admire and wonder at what is realized with truly extraordinary grace and power by this young artist of such wonderful promise." - Booklist *starred review"A visually striking, oversized picture book.. . . this is an arresting and heartfelt tribute to a well-known, but little understood community." - School Library Journal"This is one of those rare pairings of words and images in which each gains from the other, resulting in a fine, balanced collaboration." - Bulletin of the Center for Children's Books