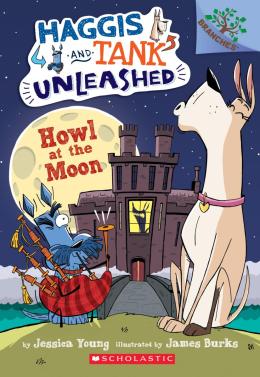 Haggis and Tank Unleashed #3: Howl at the Moon: A Branches Book
Scholastic Inc | ISBN 9781338045253 Paperback
80 Pages | Ages 5 to 7
Scholastic Inc | ISBN 9781338045277 Ebook
80 Pages | Ages 5 to 7
Pick a book. Grow a reader!
Haggis and Tank get chased by a werewolf!

This series is part of Scholastic's early chapter book line called Branches, which is aimed at newly independent readers. With easy-to-read text, high-interest content, fast-paced plots, and illustrations on every page, these books will boost reading confidence and stamina. Branches books help readers grow!
In the third book in the series, Haggis and Tank's imaginations take them across the globe -- to Scotland! They fly an airplane, visit a castle, play bagpipes, and even get chased by a . . . werewolf?! This series is full of clever wordplay and homophones that make Haggis and Tank's adventures even more fun! And James Burks's engaging, full-color artwork appears on every page!
Raves & reviews:
Praise for Digging for Dinos (Haggis and Tank Unleashed #2):
"This sequel is far from a dinosnore; here's to joining these two pals on all their future adventures." — Kirkus Reviews
"Once again, the delightful pooch duo shines in this entertaining, fast-paced, and fun read." — Booklist
Praise for All Paws on Deck (Haggis and Tank Unleashed #1):
"Kids dipping a toe into the waters of early chapter books will find themselves challenged by the text while simultaneously enticed by the alluring art." — Kirkus Reviews
"The dogs' odd-couple antics, loads of goofy humor, and an appealing comics/early reader format make for an all-around entertaining read." — Publishers Weekly