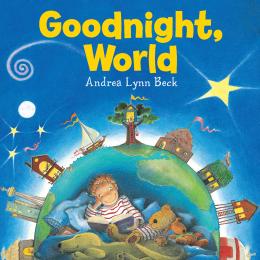 Read an excerpt
Available in French
Awards
Commended, Best Books for Kids and Teens, Canadian Children's Book Centre, 2020
Goodnight, World
Scholastic Canada Ltd | ISBN 9781443148658 Hardcover
32 Pages | 9.270" x 9.286" | Ages 2 to 6
Say good night to children all over the world in this companion to Goodnight, Canada!
It is bedtime here, in my home on the sea.
We're snug in our bunks, my brother and me.
I'm thinking of you, wherever you are.
If we look up, will we see the same star?
Andrea Lynn Beck's bestselling picture books Goodnight, Canada, Good Morning, Canada and Thank You, Canada struck a chord with Canadians from coast to coast to coast.
In this cozy companion book, children will explore connections and develop global awareness, as each intricate spread sets the scene at bedtime around the world. Goodnight, World is both a celebration of differences and a gentle reminder that we all share the same big sky.
Many of the spreads are inspired by Andrea Lynn Beck's own travels, and in a special information section at the back of the book, she provides more details on the different kinds of homes featured in the story.