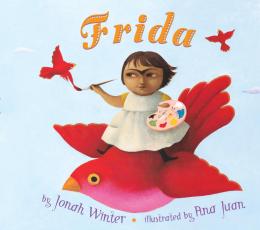 Frida
Scholastic Inc. | ISBN 9780590203203 Hardcover
32 Pages | 9.742" x 11.209" | Ages 4 to 8

This long-awaited companion to Jonah Winter's acclaimed DIEGO features the paintings of young Spanish artist, Ana Juan. This stunning picture book is the perfect gift for art enthusiasts of all ages.When her mother was worn out from caring for her five sisters, her father gave her lessons in brushwork and color. When polio kept her bedridden for nine months, drawing saved her from boredom. When a bus accident left her in unimaginable agony, her paintings expressed her pain and depression - and eventually, her joys and her loves. Over and over again, Frida Kahlo turned the challenges of her life into art. Now Jonah Winter and Ana Juan have drawn on both the art and the life to create a playful, insightful tribute to one of the twentieth century's most influential artists. Viva Frida!