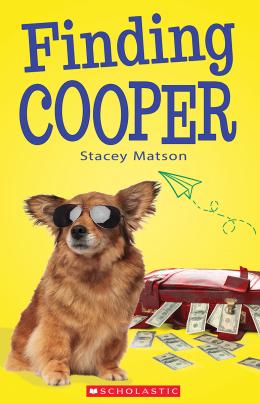 Read an excerpt
Awards
Short-listed, Chocolate Lily Book Award (BC Children's Choice), 2020
Commended, Best Books for Kids and Teens, Canadian Children's Book Centre, 2020
Finding Cooper
Scholastic Canada Ltd | ISBN 9781443163415 Paperback
240 Pages | 5.014" x 7.731" | Ages 9 to 12
Scholastic Canada Ltd | ISBN 9781443163422 Ebook
240 Pages | Ages 9 to 12
<![CDATA[

A family mystery full of humour and heart!

Twelve-year-old Cooper believes that his grandfather — who is living in a locked Alzheimer's ward — is actually D. B. Cooper, the famous (real) skyjacker who secured a small fortune and vanished in 1971.

Cooper sets out to prove his grandfather's true identity and uncover one of the biggest secrets in modern history. What begins as a distraction for a mystery-loving kid becomes a way of proving himself at school and maybe even trying to fix the deepening conflict in his parents' relationship as they all try to cope with the emotional and financial strain of caring for an aging relative.

Full of human insight and humour, this is a fast-paced book with an intriguing mystery at its core. With Matson's deft touch, it's also a witty and touching story about family and what we find when we have to face losing those we love.
Raves & reviews:
<![CDATA[

Praise for A Year in the Life of a Total and Complete Genius:

At once funny, outrageous, thoughtful . . . Arthur's is a voice readers won't soon forget. Give to fans of Susan Nielsen's Word Nerd.—CM: Canadian Review of Materials