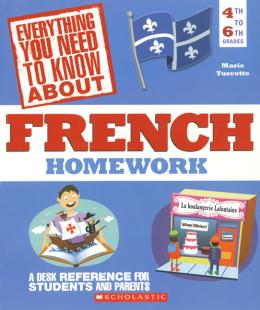 Read an excerpt
Awards
Commended, Resource Links, Best of the Year, 2011
Everything You Need to Know About French Homework
Scholastic Canada Ltd | ISBN 9780545990110 Paperback
120 Pages | 9.01" x 10.73" | Ages 9 to 11

Everything You Need to Know About French Homework is the perfect homework helper for grades 4-6. This reference book is written in English and intended for schoolchildren who have begun learning the French language in grade 4. The easyto- follow format and full-colour illustrations will also appeal to younger children in French immersion programs and their parents, who may have trouble helping their children with French homework. Included in the text are language basics as outlined by the curriculum, as well as information on French language and culture and their important place in Canada.