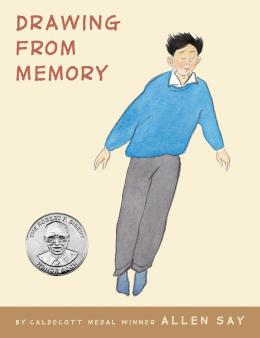 Drawing from Memory
Scholastic Inc | ISBN 9780545176866 Hardcover
64 Pages | 8.38" x 10.83" | Ages 10 & Up
Caldecott Medalist Allen Say presents a stunning graphic novel chronicling his journey as an artist during WWII.
Drawing from Memory is Allen Say's own story of his path to becoming the renowned artist he is today. Shunned by his father, who didn't understand his son's artistic leanings, Allen was embraced by Noro Shinpei, Japan's leading cartoonist and the man he came to love as his "spiritual father." As World War II raged, Allen was further inspired to consider questions of his own heritage and the motivations of those around him. He worked hard in rigorous drawing classes, studied, trained — and ultimately came to understand who he really is.
Part memoir, part graphic novel, part narrative history, Drawing from Memory presents a complex look at the real-life relationship between a mentor and his student. With watercolour paintings, original cartoons, vintage photographs, and maps, Allen Say has created a book that will inspire the artist in all of us.