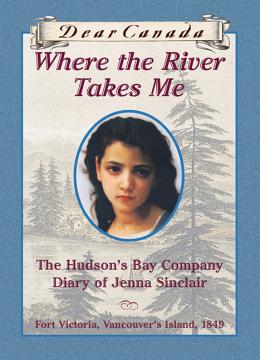 Dear Canada: Where the River Takes Me: The Hudson's Bay Diary of Jenna Sinclair, Fort Victoria, Vancouver's Island, 1849
Scholastic Canada Ltd | ISBN 9781443124065 Ebook
224 Pages | Ages 8 to 12
A young girl living at three Hudson's Bay Company posts yearns for more adventure and freedom than the rules of mid-1800s HBC society allow.
Motherless for years, and now orphaned when a hunting accident takes her father's life, Jenna Sinclair is in the care of her prim Aunt Grace, who always finds fault with Jenna's high spirits and tendency to break rules. Jenna finds kindred spirits in her Grandmother, one of the Home Guard Cree who lives near Fort Edmonton, and with her friend Suzanne. But even then, Jenna is still eager to have more freedom, and daydreams of finding Adventure with a capital A.
Opportunity knocks after Jenna moves southwest with her newly-married aunt to Fort Colvile, and begs her aunt to let her attend a ""real"" school at Fort Victoria on Vancouver's Island. With a small brigade, she begins a sometimes harrowing journey down rivers and over mountains to her new life. But the teachers at the new school are even more strict than her aunt, and she can't find a friend as likeable as Suzanne. Ever restless, Jenna wants the kind of excitement worthy of being included in a Novel. By sneaking outside the fort walls, spying on the Company officers, even visiting the forbidden Songhees village, she sometimes finds more than she bargained for.
As Jenna faithfully records her observations of the world around her — bringing the reader ""inside the walls"" of three very different HBC posts — she makes surprising discoveries about herself, and about Heroes, Villains and the places where Adventure can truly be found."