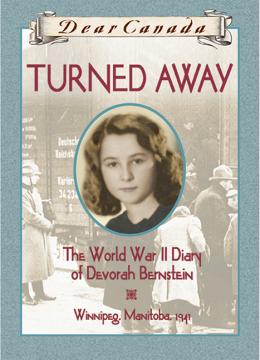 Dear Canada: Turned Away: The World War II Diary of Devorah Bernstein, Winnipeg, Manitoba, 1941
Scholastic Canada Ltd | ISBN 9781443124003 Ebook
208 Pages | Ages 8 to 12
Scholastic Canada Ltd | ISBN 9780439969468 Hardcover
208 Pages | 5.81" x 7.76" | Ages 8 to 12
This dramatic story tells of 11-year-old Devorah's efforts to help her cousin and pen pal Sarah emigrate from Paris before the Nazis deport the Jews to internment camps.
Devorah learns that 5,000 Jewish children in France have visas to leave the country, but the Canadian government will not let them in, leading Devorah to desperately lobby the government to change its policies.
Turned Away illustrates the restrictions on the life of Jews in Paris via letters from Sarah who is living in German-occupied France. It also reveals Canada's dismal record on Jewish immigration during World War II and depicts the impact of the war in Canada. In Winnipeg, one intriguing response to the war was "If Day," when local people posed as Nazis and staged a mock invasion to illustrate what it would be like if the city was occupied. Also included are fascinating period documents and photographs, many from the Holocaust Memorial Museum.
The historical consultants for Turned Away were Dr. Irving Abella, co-author of the ground-breaking book None is Too Many, and Terry Copp, author of the remarkable book No Price Too High.