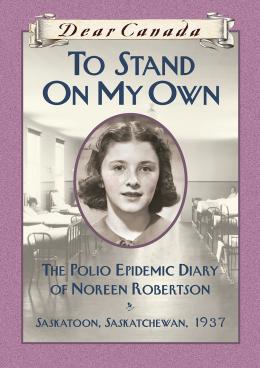 Dear Canada: To Stand on My Own: The Polio Epidemic Diary of Noreen Robertson, Saskatoon, Saskatchewan, 1937
Scholastic Canada Ltd | ISBN 9781443128155 Ebook
192 Pages | Ages 0 & Up
Scholastic Canada Ltd | ISBN 9781443100175 Hardcover
192 Pages | 5.57" x 7.66" | Ages 9 to 12
The dark threat of polio becomes a reality for a young Prairie girl.
In the summer of 1937, life on the Prairies is not easy. The Great Depression has brought great hardship, and young Noreen's family must scrimp to make ends meet.
In a horrible twist of fate, Noreen, like hundreds of other young Canadians, contracts polio and is placed in an isolation ward, unable to move her legs. After a few weeks she gains partial recovery, but her family makes the painful decision to send her to a hospital far away for further treatment.
To Stand On My Own is Noreen's diary account of her journey through recovery: her treatment; life in the ward; the other patients, some of them far worse off than her; adjustment to life in a wheelchair and on crutches; and ultimately, the emotional and physical hurdles she must face when she returns home.
In this moving addition to the Dear Canada series, award-winning author Barbara Haworth-Attard recreates a desolate time in Canadian history, and one girl's brave fight against a deadly disease.